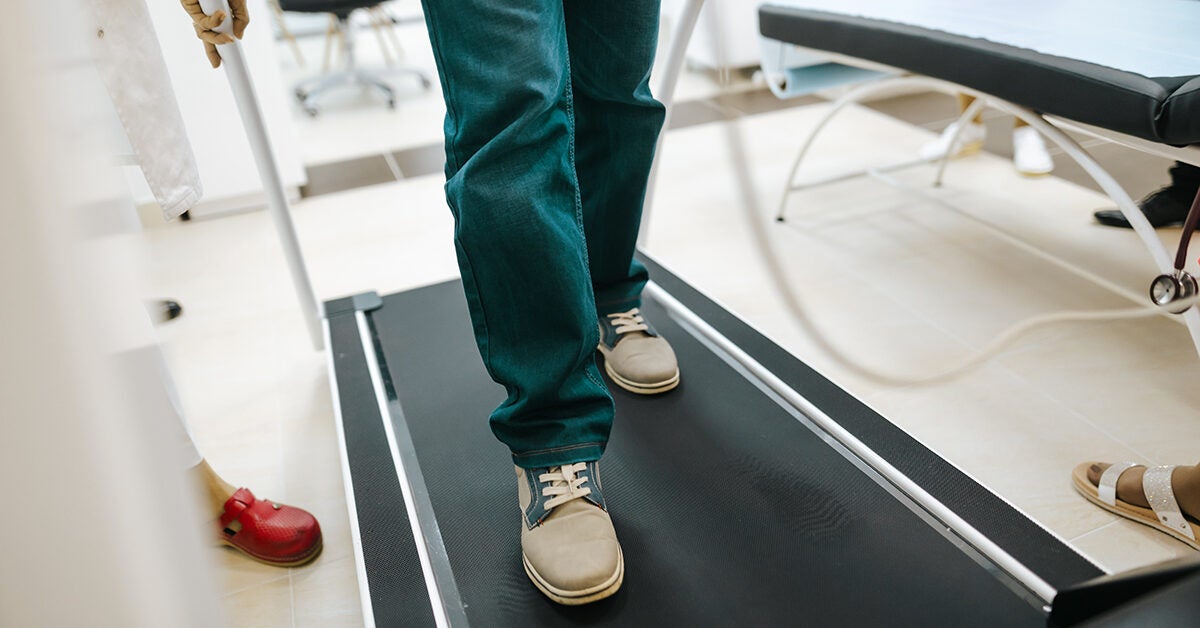 What is the 6-Minute Walk Test for COPD?
The 6-Minute Walk Test for Chronic Obstructive Pulmonary Disease (COPD) is a quick, non-invasive way to measure your heart and lung function. If you have COPD, this test helps your doctor understand how it may affect your ability to stay active.
The test can be done in your doctor's office and does not require an additional appointment or visit to a specialist. Your results may indicate that you need to start a treatment plan or make changes to your current treatment plan.
The 6 Minute Walk Test for COPD is a simple way to test how your heart and lungs respond to light exercise. During the test, you will be monitored as you walk at your usual pace for 6 minutes. The results could lead to more tests or a treatment plan.
The test is often done when your doctor suspects you might have a lung disease like COPD, heart disease like congestive heart failure (CHF), or as a measure of your general state of health.
The 6-Minute Walk Test for COPD can be performed on any flat indoor service. This means the test can usually be done in the hallway of your doctor's office. You don't need to go anywhere else or see a specialist. Your vital signs will be taken before the test begins. This will include your:
You will then begin the test. If you normally use a mobility aid like a cane or walker, you will be able to use it for the test.
During the test, you'll take turns to the end of the hall or to a marker like a chair or a door before turning around and back. You will complete as many laps as possible before the 6 minutes are up. You will walk at a normal pace that is comfortable for you.
The medical staff performing your test will let you know when each minute passes, and you can stop and rest if you need to. You can stop the test at any time if you start to experience chest pain or difficulty breathing.
The 6-minute walk test for COPD is an outpatient test. You can go home immediately when finished, and you won't need to take time off from work or other activities. Before the test, it is best to:
take all daily prescriptions
dress in comfortable clothes and shoes
eat a light meal
avoid exercise within 2 hours before the test
Your doctor will review the distance you were able to walk in 6 minutes. Test results are measured in meters run. Generally, higher numbers indicate healthier heart and lung function.
On average, an adult can walk between 400 and 700 meters during a 6-minute walk test. Your results will be compared to others in your age, gender, weight and height categories. Your doctor will also review factors such as underlying health conditions and the results of a previous 6-minute walk for COPD tests to assess your results.
The results of your 6-minute walk test may lead your doctor to recommend physical therapy or a guided exercise program. They may also prescribe a new medication or change the dose of a medication you are currently taking.
After 6 months to a year of your new treatment plan, you will likely have another 6-minute walk test to see if the therapy, exercise, medications, and any other treatments have been effective.
The 6-minute walk test for COPD is done to test your heart and lung function. This is often done when your doctor suspects that a condition like COPD or CHF is affecting your daily life.
This can be done when you are first diagnosed with COPD or another condition when symptoms of a condition like COPD keep you in the hospital. It could also be used to test the effectiveness of a drug or a therapeutic program.
The 6-minute walk test is a safe, non-invasive test that is normally performed in a doctor's office. There are not many risks associated with the test.
You will be monitored during your walk and the medical staff can help you if you have any difficulties such as chest pain or shortness of breath. But the test is not for everyone. This includes people who have:
The 6-Minute Walk Test for COPD is covered by Medicare and most insurance plans. But your doctor may need to provide proof to your insurance company that you needed the test. Additionally, you may still be liable for costs such as copayments or deductibles.
You can check with your insurance company before the test if you are unsure of what will be covered.
The 6-Minute Walk Test for COPD allows healthcare professionals to quickly measure if a condition like COPD or CHF is slowing you down. Test results show how far you can walk in 6 minutes and give doctors a good idea of ​​your ability to perform other daily tasks.
Your results may lead your doctor to suggest that you start an exercise program or begin physical therapy sessions. You can also start taking prescription medications or have your current medications adjusted.
The goals of your treatment plan will be to help you walk further without experiencing shortness of breath or chest pain. A follow-up 6-minute walk test can measure the success of your treatment plan.