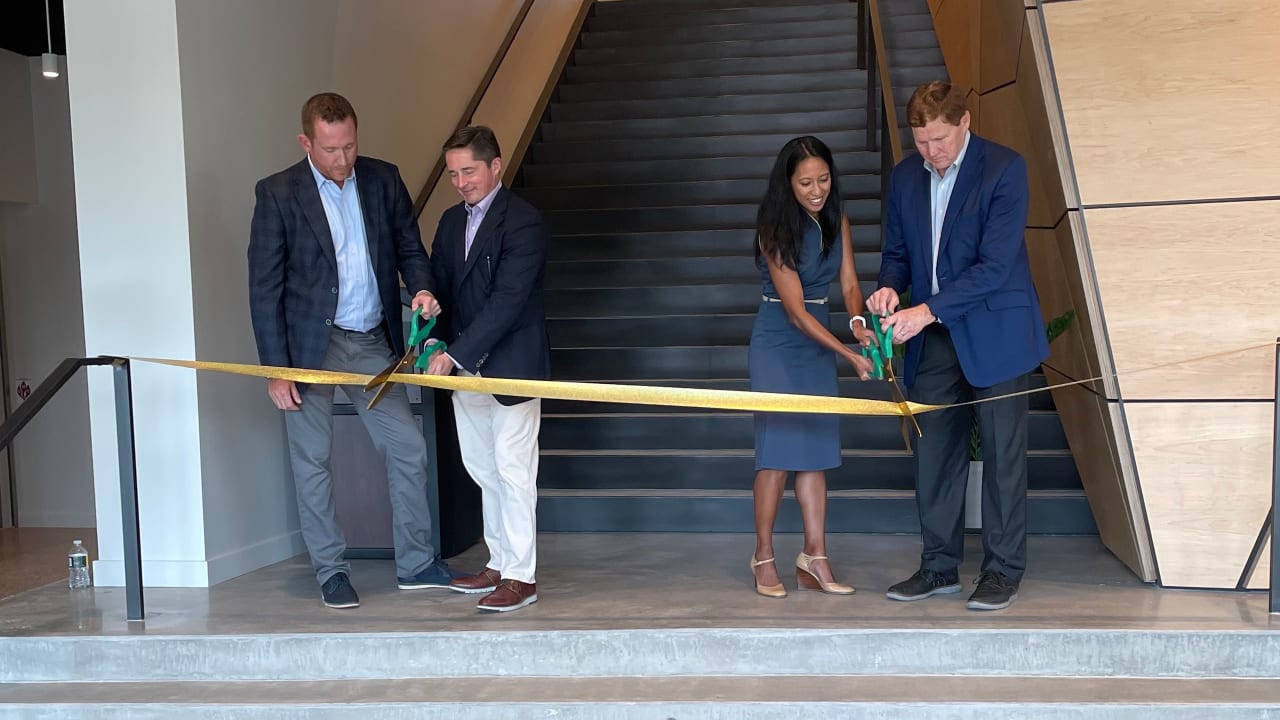 TitletownFlats to welcome its first residents on November 1
Titletown Development LLC, the real estate development arm of the Green Bay Packers, today hosted a ribbon-cutting ceremony and open house for TitletownFlats, the seven-story apartment building on the west side of Titletown.
TitletownFlats, located along Brookwood Drive and Marlee Lane at the west end of Titletown, offers 152 luxury units, ranging from studios to three bedrooms. Construction is nearing completion and residents will begin moving into the apartments on November 1.
Limited units are still available with leases starting in November. Future residents are invited to stop by the rental office on the first floor of the building and take a tour.
"We look forward to welcoming residents to their new apartments at TitletownFlats in just a few weeks," said Mark Murphy, President and CEO of Packers. "Titletown has proven to be a vibrant and lively environment for visitors and residents of our townhouses, and we are excited to see how our new neighbors at TitletownFlats will add to the energy of the area by enjoying all that Titletown has to offer. "
Residents will enjoy exceptional access to luxury amenities inside and outside the building, with the vibrant community of Titletown and its daily activities and frequent events all year round right on their doorstep. The building includes a two-story amenity center, which includes everything residents may need for a comfortable and exciting life at their fingertips: lounge area, game room, kitchen and beverage bar and co-working spaces. Residents can use a fitness center with interactive cardio equipment, weight training equipment including TRX, and a yoga studio. Residents of TitletownFlats will also have access to an outdoor grill area and patio with fire pits, a sun deck, a private resident dog park and heated underground parking. Storage and charging stations for electric cars will also be available to residents.
The modern, fully-equipped apartments have open cantilevered balconies that offer views of the nearby Lambeau Field. With a carefully curated collection of amenities and a variety of floor plans, TitletownFlats offers a unique rental experience, with all the high-end finishes of a luxury urban high-rise building with the unique benefits of living in a friendly and accessible community.
TitletownFlats was built by Pepper Construction, a Midwestern based company with an office in Milwaukee.
"Pepper Construction is thrilled to be a part of this transformation project in Titletown," said Jeff Johnson, president of Pepper Wisconsin. "From premium finishes to access to outdoor spaces, this development will improve the quality of life for people and we are honored to partner with the Green Bay Packers to bring this vision to life. "
The building was designed by world-renowned architectural firm NBBJ and is managed by Founders 3, Wisconsin's first multi-family management company.
"Founders 3 is honored to partner with the Green Bay Packers and to be selected to help oversee the management of this iconic development," said David Behnke, Director of Founders 3. "Titletown has become a great asset to the entire region and will be a sought-after place to live and play for years to come. "
To learn more about floor plans, prices and amenities, inquire about leasing, and sign up for updates, please visit TitretownFlats.com or dial 920-953-5287.
In addition to TitletownFlats and the adjacent Titletown office, another future development of approximately 100,000 square feet is being considered for Titletown. Concepts considered include retail, health and wellness, food and beverage, and entertainment.
Pepper Construction
Now in their fourth generation of family leadership, Pepper Construction offers its clients a unique blend of local relationships and services coupled with the resources and scalability of a leading nationwide construction company. Based in Milwaukee's Third Quarter, they are at the forefront of the industry with thought leadership and innovative solutions in virtual design and construction, lean construction and high performance. Their in-house integrated construction services are delivered through a local and hands-on approach and include services such as pre-construction, virtual design and build, high performance and durability, lean construction, MEP coordination, quality management. and security management. For more information, please visit www.pepperconstruction.com
Founders 3
Founders 3 is a leading, full-service commercial real estate company changing the way you can find, achieve and maintain the greatest value in Wisconsin and beyond. We offer a full range of brokerage, management and advisory services, led by teams of experts with exceptional market knowledge in their specialties. For more information visit www.founders3.com.