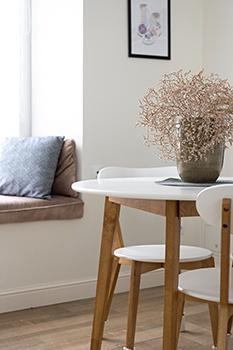 National Company Adds 2 Fayetteville Apartment Communities to Portfolio
A landlord of apartment communities in 19 states has purchased two more in Fayetteville with plans to make $7 million in property improvements.
Morgan Properties, considered one of the top three multi-family housing companies in the country, has acquired Westlake in Morganton and The Preserve in Grande Oaks, which have a total of 642 units, according to a press release.
The apartment communities were purchased from Morganton Management and Development of Fayetteville. The purchase price was not disclosed, a representative for Morgan Properties said Thursday.
The deal means Morgan Properties now owns five local apartment communities with a total of 1,530 units. The company purchased the village at Cliffdale, Chason Ridge and Morganton Place in November 2021.
"As relatively long-term owners of apartment communities in 19 states, we regularly seek to add geographic diversity to our overall apartment portfolio," said Greg Curci, executive vice president of operations at Morgan Properties, by email. "Similarly, where possible, we prefer to have a mix of asset classes within a given market to provide rental options at different price points. Our recent acquisitions in the Fayetteville market address both of these objectives by providing us with three assets built in the 1990s and two assets developed in 2007 in the stable and sustainable Fayetteville market.
The acquisition brings the company's total portfolio to more than 93,000 units nationwide, according to the press release.
Morgan Properties cited Fayetteville's access to Interstate 95, the presence of Fort Bragg, and its proximity to North Carolina's three largest cities as reasons why Fayetteville is attractive for economic development.
"We look forward to growing our presence in this attractive market and continuing to build our experience in Class A multifamily across the country," Jason Morgan, president of Morgan Properties, said in the press release.
Westlake in Morganton and The Preserve in Grande Oaks are pet-friendly communities with amenities that include a swimming pool; fitness center with an on-site trainer; business centre; entertainment lounge; and movie theater.
One-, two-, and three-bedroom apartments offer updated kitchens and bathrooms, in-unit laundry rooms, new appliances, walk-in closets, and patios, according to the press release.
Westlake in Morganton has direct access to parking lots.
Morgan Properties plans to invest $7 million for interior upgrades and smart home technology in the apartments, according to the release. Other planned amenities include a new clubhouse, dog parks, grilling patios and a bike-share program.