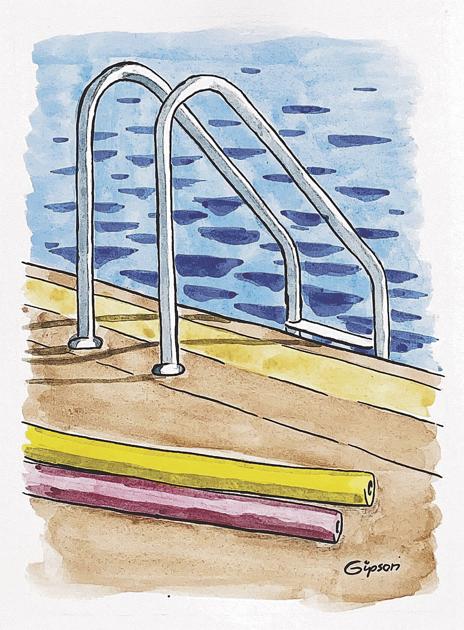 Human condition: Yes, adults jump up and down | Entertainment / Life
The water seems bluer today, the hot sun on my shoulders. The Senior Power class is meeting in the outdoor pool at the start of summer, and the pool is full.
A few dozen women wearing hats and sunglasses, mixed with a few hard-working men, stand up to their breasts in the water – an active and talkative group.
We've all missed a lot over the past 15 months, and for me swimming and water aerobics were high on my list.
During the long months of pandemic containment, some of our "pool gangs" have kept in touch by phone, checking on each other and worrying about staying healthy.
When the vaccine became available to our age group last winter, we blasted the phone lines trying to make an appointment to get the vaccines. Barbara said we were a bunch of senior junkies, frantically exchanging phone numbers, looking for our "fix".
But we all saw the vaccine as a great gift – a chance to protect ourselves and others from fatal disease, yes, but most of all a way to get our life back on track. In early March, with the pools at the Ochsner Fitness Center open for limited capacity individual exercises, we regularly reserved our seats and greeted each other across the water, vaccinated and counted the days when the aerobics classes would resume.
Finally, the day has come when we can take our water weights and those Styrofoam tubes we call noodles and line up for Cindy's fiery instructions. As usual, we work our jaw muscles along with everything else. After all, we haven't been together during the long months of COVID-19. The greetings remind me of those weeks after Hurricane Katrina, when the people of New Orleans met, on the sidewalks or in the aisles of grocery stores, with "You're back!" How did you get out of it? But there are no more spontaneous hugs now, and even in the pool, we keep our distance.
Some greetings are met with gloomy news.
"I recovered from COVID, then I had a bad fall," says Jean, "but I'm back."
"I lost two cousins," says Johnny. "One was my fishing buddy. I miss him."
Others tell stories of family members or spouses suffering from illnesses or surgeries, eliciting murmurs of sadness or encouragement. Yet today the sun is shining, and we are together, back in the pool.
"To jog!" Cindy shouts. "Move it! Remember: squeeze that butt – if you don't squeeze it, no one else will! Laughter erupts from exuberant bodies, moving in unison.
Just as we begin a series of show jumps, two teen counselors lead a long line of student campers through the doorway and along the edge of the pool. They are little campers – probably kindergarten age – and they all wear identical blue T-shirts.
The last little boy in the line stops, staring intently at the pool full of jumping seniors. Finally, he looks up at the counselor behind him and says, in a tone of wonder, "The adults are jumping up and down.
Yes indeed we are.
– Perry lives in New Orleans
Advocate readers can submit stories of approximately 500 words to The Human Condition at [email protected] There is no payment, and the stories will be edited. Authors should include their city of residence and, if writing about yourself, a photo.