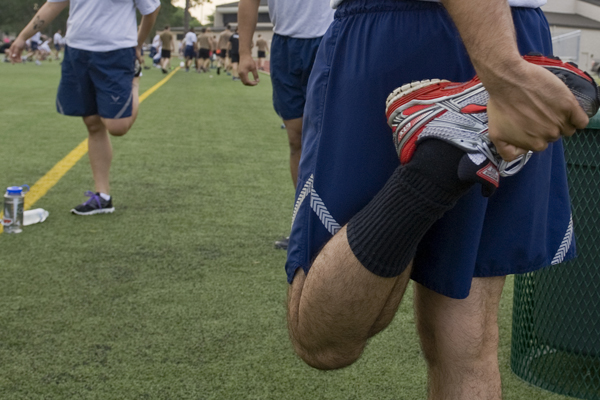 How to make a contingency plan when life keeps you from working out
Do you have a back-up plan if life interferes with your training plan and you have to improvise on the spot? Do you wrap it up and say you tried it, or do you get away with it some other way?
Often times the pool is closed or full, you arrive too late at the gym because you slept too much or had to work late, your child's schedule interferes, or other life commitments get in the way of an exercise routine. perfectly planned exercise.
Here are some classic backup plans if you have an event that derails your daily schedule.
1. Always be flexible
Most of us need to improve our ability to bend, not only with our daily schedules, but also with our bodies. If you can't make it to the pool to swim, to the gym to lift, or to the track to run, consider focusing on the elephant in the room: your lack of flexibility.
Take an online yoga class and replace 30 to 40 minutes of stretching in place of any workout you planned, and you will have accomplished two things.
First of all, you have been working on your flexibility, which statistics show most avid sportspeople lacking. Second, you've saved your workout habit for another day.
It is too easy to break good habits by skipping training. Soon you will get into the habit of skipping training. Avoid going this route and do something, even if it is an easy walk in the time you have allotted for training that day.
2. Have a floating day off
If you train often, consider adding a day off to a seven-day week. It might be a relaxing day or maybe some yard work or other chores, but take a day off from training. If you make it a floating day, you can place it any day of the week when life gets in the way of your plans. We generally train six days a week, Sunday being free. However, if we miss a day, we shift our plans to the right and finish the 6th day of the training week on Sunday.
3. Take a day of mobility
If you lose your plan, consider a Mobility day. We usually have them scheduled mid-week and can do them at the gym or at home in my carport.
It works like this:
Repeat 5 times
Cardio of your choice (jogging, walking, cycling, etc.): 5 minutes
Dynamic and Static Stretch or Foam Roller: 5 minutes
It takes an hour. If you only have time for three sets, you only spend 30 minutes. The key to it is to work on what is distressing you. Spend part of the stretching time massaging any muscle or joint pain or inflammation.
This type of focused flexibility, mobility, and non-impact cardio (if available) can be a life-changing event. You will come to a point where you "never skip mobility days" during the training week.
4. No training required
Do an upper and lower body workout that you can do on the fly. For some it will be an exercise video, like P90x, or a fun game PT military session you can find on youtube that does not require any equipment if you have a place to do swedish gymnastics. For others, you may have a favorite calisthenics workout like the PT Pyramid or the Murph workout that only requires one place to run and do push-ups. I usually find a pull-up bar at a park if I'm away from home and doing a quick pyramid.
5. Meditation
Focus on the mind and relax. You've probably had a stressful day if your schedule is disrupted, so take the time to focus on inner peace. There are some excellent meditation apps and Youtube videos to help you with the process.
6. Don't skip leg day
If you had planned a leg day with all the classic leg lifts, you can still work the legs with minimal or no equipment. My favorite leg day replacement is a bike or a run.
It looks like this:
Repeat 5-6 times
Running: 400 meters fast or Cycling: 3 minutes with a hard tabata interval (20 seconds sprint, 10 seconds easy)
Squat: 20
Lunges: 10 per leg
Heel Raises: 20
You can add a weight vest, sandbag weight, dumbbells, or kettlebells to make the reps a bit harder. If the gym is closed and you don't have access to the weights, find a track and a place to do squats and lunges. If there are sandy beaches, bleachers or hills nearby, it is even better to mix them with the leg circuit.
7. Don't waste time
If you're missing a planned workout schedule or can't fit everything into one session, focus more on time management. Time has a way of escaping us during a professional or domestic project. Try to keep moving in the gym when you can. Avoid wasting time with too much screen time on social media before, during or after your workout. Use an active rest training circuit and "rest" by doing other unrelated exercises between sets of your main exercise.
8. Skip it and live to practice another day
If traffic, late working hours, or other issues pop up out of nowhere, don't worry, but don't make it a habit either. Sometimes you need a day of rest and recovery, and it's never a good idea to be so stressed about missing something in your schedule that you're driving carelessly, get a traffic ticket. for speeding or have an accident.
Some of you die-hard sportsmen and women need to relax and enjoy a good meal with family and friends every now and then when you miss a workout.
I hope these suggestions provide answers to a problem we all have at least once during the training week. Life is coming, so enjoy it and keep moving forward.
Stew Smith is a former Navy SEAL and Fitness Author Certified as a Strength and Conditioning Specialist (CSCS) with the National Strength and Conditioning Association. Visit his Fitness e-book store if you are looking to start a workout program to create a healthy lifestyle. Send your fitness questions to [email protected]
Want to learn more about military life?
Whether you are considering joining the military, looking for basic fitness and training advice, or following the military life and benefits, Military.com has you covered. Subscribe to Military.com to receive military news, updates and resources straight to your inbox.
View full article
© Copyright 2021 Military.com. All rights reserved. This material may not be published, broadcast, rewritten or redistributed.