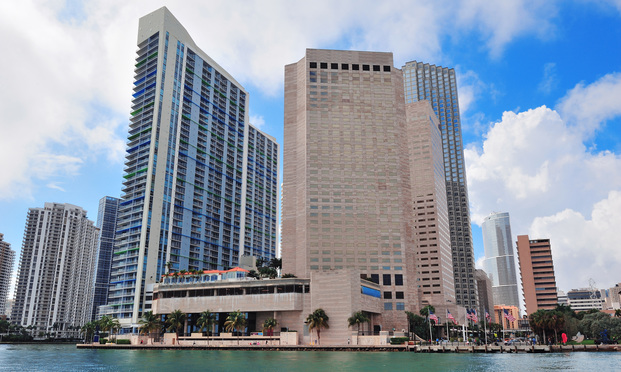 CP Group Expands Miami Office Portfolio to 2M-SF with Latest Purchase
CP Group, formerly known as Crocker Partners, has expanded its Miami office portfolio to 2 million square feet. A joint venture between CP Group, Rialto Capital Management and Sabal Capital Partners acquired One Biscayne Tower. CP Group also owns the SunTrust International Center and the Citigroup Center.
The 38-story office tower is LEED Gold and Wired certified and offers a newly renovated fitness center and parking lot. These are currently 65% ​​leases, and the CP Group plans to promote rental through a new brand image and strategic building improvements to the exterior, lobby, gym. , on-site café and conference center as well as on tenant floors.
CP Group Managing Partner Angelo Bianco said the purchase was an opportunity for the company to take advantage of the huge growth in the Miami market, saying the building is among "the most prestigious office destinations. from the city ".
Miami's office market has accelerated rapidly over the past 12 months, catalyzed by the pandemic. Already, the market has seen a wave of new investment activity. In March, the funds managed by Blackstone Real Estate acquired 2 & 3 MiamiCentral, a 330,000 square foot office complex of Shorenstein Properties for $ 230 million. The property is leased to a prestigious list of tenants, including Carlton Fields, Ernst & Young, New Fortress Energy and ViacomCBS as well as Blackstone's Technology & Innovations group, which occupies approximately 12% of the space at 2 MiamiCentral.
It is not surprising that the market is attracting capital given the favorable fundamentals of the market. A report from Colliers shows Miami leads South Florida in office rental growth, thanks to an influx of fintech startups. Ask for rents for Class A offices in Miami Beach rebounded to $ 56.66 per square foot, up 10.2% year-over-year. The submarket also has a limited supply of office space, which puts additional pressure on rents. In Brickell – which Colliers calls "the Manhattan of the South" – the Class A market has been stimulated by the relocations of companies from the Northeast and Midwest. Average rents reached $ 66.70 per square foot in the first quarter, an increase of 4.9% from the figures for the first quarter of 2020.
Christian Lee, José Lobón, Amy Julian and Andrew Chilgren of CBRE represented the seller in the CP Group transaction, while Brian Gale, Andrew Trench and Ryan Holtzman of Cushman & Wakefield, who handle the rental of the property, also helped with the sale.