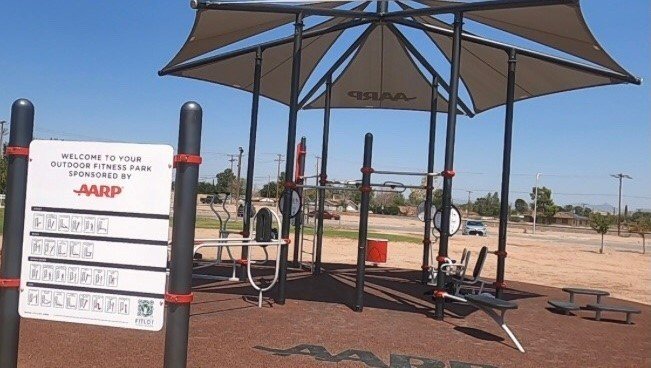 City offers free outdoor fitness classes at Henry Benavidez Community Center
Newsletter Report
The City of Las Cruces has partnered with AARP and FitLot to create a new fitness park at the Henry Benavidez Community Center, 1045 McClure Road.
Starting April 5, free fitness classes will be offered. The free introductory classes and weekly sessions aim to increase access to fitness activities, encourage community and neighborhood connections, and help the community achieve its health and wellness goals.
Classes will be delivered by certified trainers using the circuit training method developed by FitLot. Classes are offered free of charge and registration is now open.
FitLot is inclusive of all adult ages and abilities, and the free classes create opportunities for anyone in the community to learn how to use the equipment safely and correctly. Each piece of equipment has an instruction panel with a QR code. Scan the QR code to visit the Movement Library, at fitlot.org/library and watch a brief instructional video on how to use each piece of equipment.
FitLot suggests participants attend an introductory class before signing up for an eight-week FitLot Method circuit training session or drop-in class.
Here are the courses offered:
Introduction to FitLot. These one-hour introductory classes will help you learn proper movement, safe equipment use, and the format of a FitLot circuit training class in a slow-paced, effortful instructional setting. light.
Drop-In. In these one-hour drop-in classes, you'll experience a complete FitLot circuit training without having to sign up for a series' eight-week commitment.
Eight week series. These one-hour circuit training classes provide a fun, comprehensive workout that all ages and abilities can benefit from. Signing up for the eight-week series will include training twice a week for eight weeks.
Learn more about individual classes at fitlot.org.