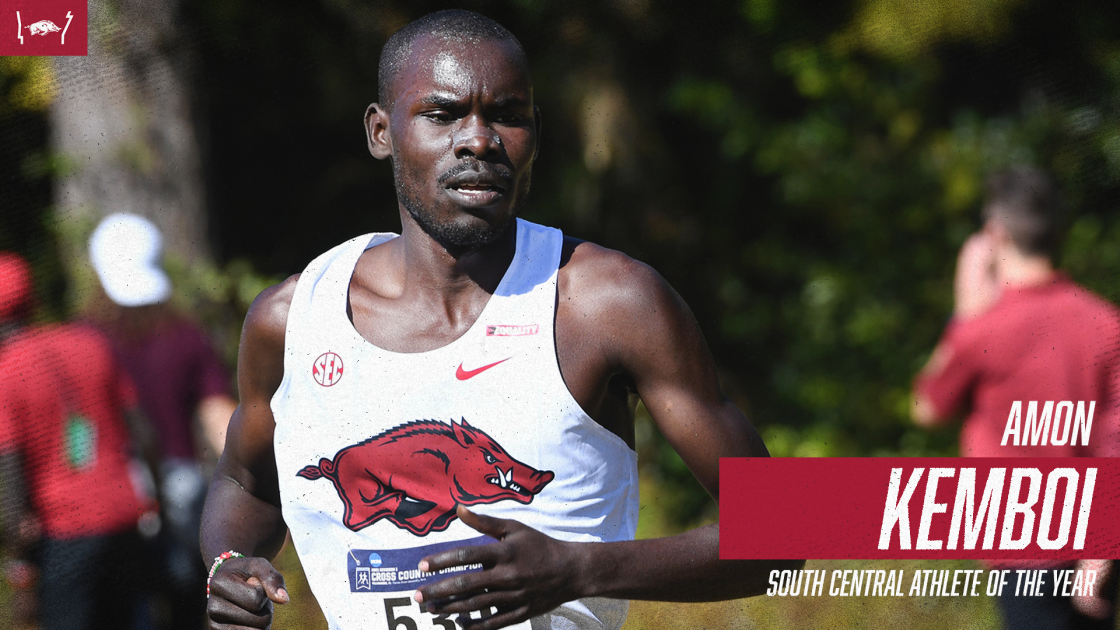 Center-Sud region: Kemboi athlete of the year, Bucknam coach of the year
NEW ORLEANS – Razorback Amon Kemboi and Arkansas men's head coach Chris Bucknam received the South Central region awards on Tuesday as athlete of the year and coach of the year, as announced by the United States Track and Field and Cross Country Coaching Association.
Kemboi won his second athlete of the year award in the Center-Sud region. By earning an All-America honor for his 12th place finish at the NCAA Championships last weekend, Kemboi became the first man to win five All-America honors in NCAA cross-country.
Top runner-up among South Central entrants at the NCAA Championships by leading the Razorbacks to another podium, Kemboi won a second All-America in cross country with Arkansas – 11th (2020) – after winning three with Campbell – 29th (2017), 7th (2018) and 8th (2019).
Kemboi was one of nine participants in the men's field to compete in a fifth NCAA Cross Country Championship due to covid, but he was the only one to win All-America accolades in all five races. The second-best tally among the group of nine was three All-America honors for Morgan Beadlescomb of Michigan State.
This season, Kemboi was a silver medalist in the SEC championships and finished fifth in the South Central competition while running flat.
Bucknam also received the South Central Region Coach of the Year honor for the second year in a row and for the 10th time overall. The Razorbacks defended their SEC team title this fall, collecting their 27e cross country championship in the SEC.
Arkansas closed another stellar season by repeating a podium at the recent NCAA Championships, placing fourth to produce the Razorbacks 22nd top four. It was the first consecutive podium streak for Arkansas since 2004 and 2005.
It was also the 11th time the Razorbacks have posted an identical team result in consecutive years.
First (1986, 87), First (1990, 91, 92, 93), First (1998, 99, 2000), Second (1996, 97), Third (1981, 82), Fourth (2020, 2021), Fifth ( 2016, 17) and 10e (1978, 79).