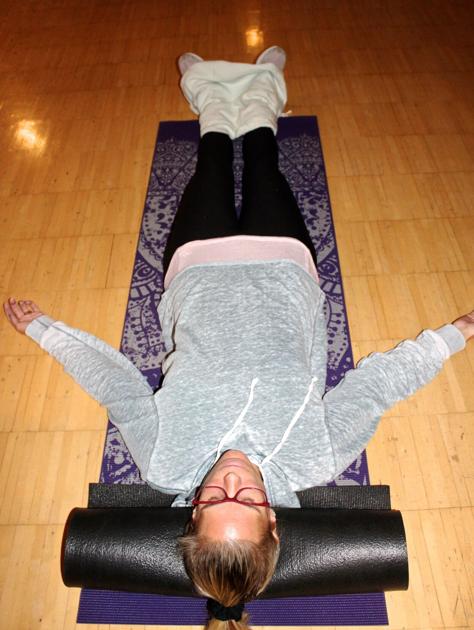 Breast Cancer Awareness Month: Y Launches Yoga Class for Cancer Patients | New
OTTUMWA – Cancer can bring a lot of stress to a patient's life. With a new class from the YMCA Ottumwa, these patients now have a place to go to find peace and relaxation.
Restorative Yoga, a program for cancer patients and survivors, is scheduled to begin October 18 and can accommodate up to 10 participants.
"It's kind of meant to help with relaxation," said Heather Coffman, director of health and wellness at the Y. "The good thing about restorative yoga is that the poses are held. longer and they are all on the ground There are no quick transitions.
Candy Fisher, a Y fitness instructor who will lead the classes, says it's a very careful movement, which puts participants in the pose, stays there for several minutes, and works on their breathing. "The goal is to make the person feel comfortable so that they can relax in their surroundings," she said. "I really never touch people or move people. "
What she does, she says, is show the pose and how to get started. "These transitions are part of the program," said Fisher. And with the small class size, she can give that personal attention to the participants. If someone is having problems or seems to be uncomfortable, she can help them adjust the position and customize the movement.
"It can be tailored to the individual," Coffman said. And she sees it as a great opportunity to reach out to the community and provide a needed service. "We've been looking for a way to deliver new programs for the Y. It looks like the Y is really focusing on community outreach and what we can do for the community," she said, noting that patients do not need to be a Y member to participate.
In addition, patients can register for restorative yoga for free. Funds for equipment and fees are paid through a grant from the Legacy Foundation.
Coffman said the benefits of the program are twofold for quality of life. "Exercise is a component of this, and so is the mind. Yoga combines the two, "she said. It's about putting them in a good relaxed state of mind, she added.
The program is open to patients of all types of cancer, but leaders thought the start of the program in October, coinciding with Breast Cancer Awareness Month, would be a good time to start. The initial duration of the weekly classes will be six weeks, and registration will then take place month to month. Classes are currently scheduled for Mondays from 2 p.m. to 3 p.m., but instructors are hopeful the class will see an opportunity for growth.
Although the classroom size of 10 is an ideal size, Coffman said, due to the personal interaction required by the classroom, studio space, and spacing for COVID-19 precautions.
"If we happen to get past that, we'll add more lessons if we need to," she said. "If we add more classes, we'll schedule different times of the day, like the evening or the morning, to hopefully reach more people. "
A Y promotional flyer describes the program as "a conscious relaxation practice using props (blankets, bolsters, mats, yoga mats) to support your muscles in soft, comfortable positions." The poses are held for [several minutes], giving your body time to relax so that your mind can enter a calm meditative state.
Registration is required and can be done by contacting Coffman at 641-684-6571 ext. 26 or [email protected]