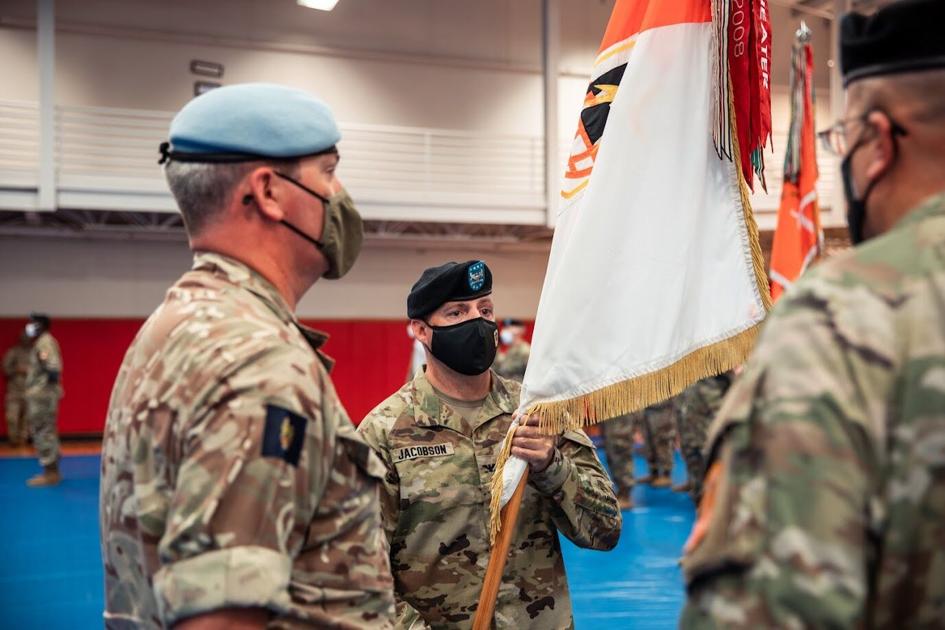 11th CSB welcomes and bids farewell to commanders | New
Avoiding the rain on August 18, dozens of Soldiers assigned to the 11th Corps Signals Brigade filed inside the West Fort Hood Fitness Center as they prepared to bid farewell to a commander and welcome a new one.
After leading the Thunderbirds for the past two years, Colonel Brian North has relinquished command to Colonel Brian Jacobson.
The change of command ceremony marked the change of command as Jacobson received the brigade colors from Maj. Gen. Michael Keating, deputy commander for support of III Corps and Fort Hood, and reviewing officer for the ceremony.
Keating stepped onto the podium to thank North and his family for leading the unit through these unprecedented times and to reflect on the many accomplishments of the soldiers in the brigade under North's command.
"For the past 18 months, the Thunderbirds have been our army's signal support brigade," Keating said. "They have been at the forefront of modernizing structures and capabilities, moving from a theater tactical signals brigade to a corps signals brigade. "
Keating shared the great confidence he had in Jacobson as the new brigade commander.
"I know you will propel the Thunderbirds to even greater achievements, and I know you will care passionately for the health and well-being of every soldier you are privileged to command." Keating said.
Keating said Jacobson inherits a high performing team and has a lot to look forward to over the next few years.
As North stepped onto the podium, his speech closed his term in command in the same way he began two years ago: putting the needs of his soldiers first by ensuring his speech was brief.
"The Thunderbirds before us represent the exceptional formations which have repeatedly and reliably provided theater to company commanders in Europe, the Middle East, the Pacific and within the III Corps," said North. "They have exercised command and control in the most complex environments. I cannot take credit for their accomplishments.
During his speech, North recognized all ranks for their accomplishments, before thanking his family for their continued support.
"I can't express enough how impressed I am with the soldiers," North said. "It has been a phenomenal experience to be a ghost warrior."
As the applause died down, the soldiers present waited intently as their new commander stepped onto the podium to speak.
Jacobson began by showing his gratitude to everyone present, whether physical or virtual, soldiers and valued guests of his family.
"Thunderbirds… I look forward to building on the positive momentum you and Colonel North have achieved so far," said Jacobson. "And together we can add to the legacy of the 11th Signal Brigade as the voice of the 3rd Corps."